Jukka Propeller-Mixer is an extremely effective tool for stirring all kinds of slurry.
We have paid particularly close attention to the propeller of this slurry mixer. As a result, we have managed to create an extremely powerful energy flow with relatively small power consumption.

The leading edge of the propeller imitates an aeroplane wing - the flow resistance is small and the convex surface of the edge generates a strong air suction. Once inserted into the liquid, the tip of the propeller travels at the speed of 650 rpm at 94 km/hr, or 1000 rpm at the speed of 145 km/hr. This proves the fact that the careful design of the propeller does play a big role in the performance.

Note: All our models have serviceable bottom structures. The shaft can be removed without separating it from the propeller. Simply unscrew the bolts, and you can lift the shaft along with the propeller and replace worn-out bearings.



The best hydrodynamics on the European market.

As the only European manufacturer we have made our propellers last without any compromises.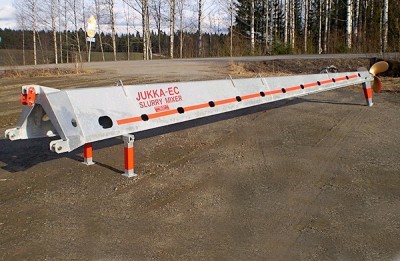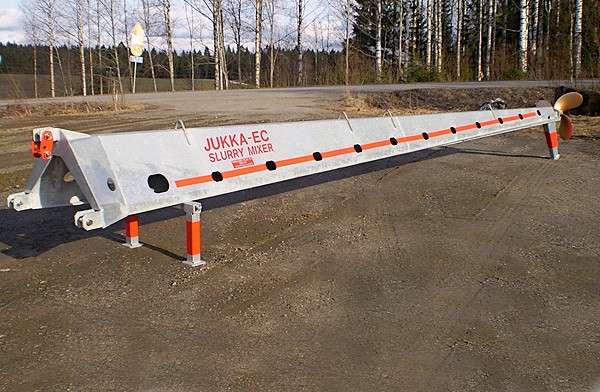 JUKKA-EC Slurry Mixer 8,1 m.
Read more
Price list 15.4.2020 (incl. VAT):
Fast 6,4 m: 4800 €
Fast 7,9 m: 5500 €
Fast 9,6 m: 6000 €

Price in the example of our most popular propeller with a 77 cm three-bladed propeller.
The selected propeller and the number of blades have an upward or downward effect on prices +-200 €. Ask!

JUKKA-EC Slurry Mixer
8,1 m long: 6400 € 77 cm three-bladed propeller
9,9 m long: 7300 € 77 cm three-bladed propeller



Bearing:
About 10 years we have manufactured the wooden bearings by planing, which makes it easier to make them long. Because of that the mixers now have up to 5.5 meters of bearing. Since summer 2015 all models have had serviceable structures, which makes it significantly easier to replace bearings.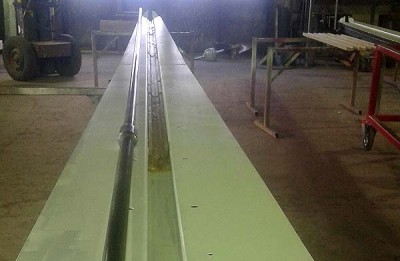 The fully openable bottom structure of the Jukka Fast mixer is clearly visible, before installing the shaft. The lower greased wooden bearing halves are already in place.
The capacity and tank size of a farm tractor:

Indicative list of mixer models

Container sizes:
200-800 m3 6,3-7 m mixer with a 64 cm or 77 cm propeller.
500-1500 m3 7 m-8 m mixer with a 77 cm propeller.
1000-3000 m3 8 m mixer with a 77 cm propeller.
1500- 30000 m3 10 m mixer with a 77 cm or 96 cm propeller.

A water pump turbine
Diameter of 360 mm, material: 8 mm steel.