Jukka Fast-series slurry mixers
Jukka Slurry mixers have made near 30years. Fast-series is our fresh models of mixers.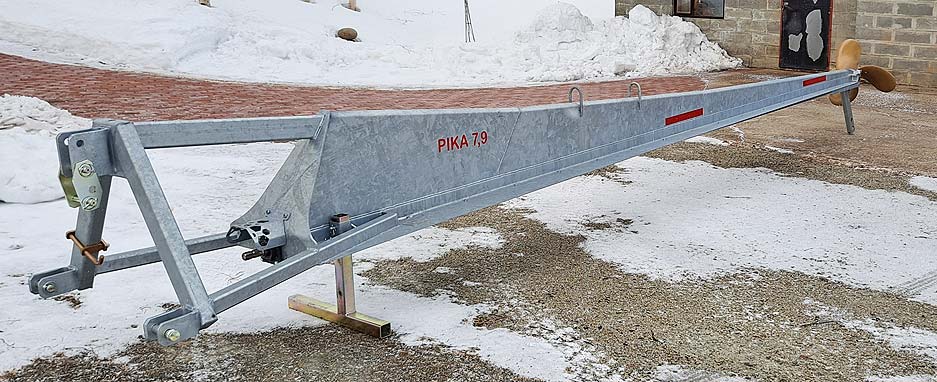 It is strong, easy to clean. Easy to maintenance because of shaft tunnel is possible to open and lift the entire shaft off.  Frame stands corrosive environments, thanks for hot-dip galvanizing. Bearings. Near tractor is 207 ball bearing, at least 4,5m wooden support shaft in a shaft tunnel. Near propeller is two 30 mm thick Hardox steel flange that carries the trust force that the propeller creative. The same flange joint to the propeller has connected with three adjustable pedestals from the frame that also support the propellers' head and give a longer lifetime to the wooden support.



Our mixer has not hydraulic cylinder for pivot mixer to the lagoon because often, clients have the hydraulic upper link, which works well for this purpose. Our mixer did not make fitt if the lagoon wall is more than 80 cm high or the whole lagoon is top of the ground.

A wide-angle PTO shaft is unnecessary because you can adjust near the same angle both head of the PTO shaft by lift arms and hydraulic upper link.

Because the propeller pushes slurry away from the tractor, the mixer does not need to reach halfway to the lagoon. Strong current carry across the whole lagoon.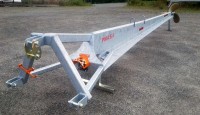 As small manufacture, we have got a good market and reputation in Finland. Our mixer is not cheaper. It is not the most expensive neither. But the propeller is a high-tech product that makes our mixer so popular in Finland.



Lenght: 6,4 m, 7,9 m and 9,6 m

Fast 6,4 fits smaller about 150-1500 cubic meters lagoon, depth 3m or less. Or if it advantages about smaller weight or short dimension.
Fast 7,9 weight 540 kg fits smaller or little bigger lagoon. 4m deep lagoons are near limits without a wide-angle PTO shaft.
Fast 9,6 fits lagoon 500 -> 5000 cubic meters lagoon. Depth 4,5 m.

Rubber lagoon
We have an extra part to the propeller's head support leg that protects the liner.

PTO head six grooms 1 3/8"  is possible also get bigger 1 3/4" head, then 207 ball bearing size is 208.



Jukka-Propeller
Tikkanen Paja Ky owner Jari Tikkanen has always been interested in hydrodynamics and propeller. Also, aviation increases knowledge about flow technology. Although keen to make a perfect propeller and develop technology to do them by serial production. It is very hard to believe Jukka propeller is a slurry mixer if the propeller has taken away from the frame; most viewers keep it propeller of the ship.



Jukka Propellers are making two- or three-blade version. But nothing can't stop making like the five-blade version for hydropower turbines.

Jukka propellers have made with all hydrodynamics laws. Propeller is twisted (flying), hydrofoil > very streamlined, and self-cleaning shape. All these features mean very low inner drag, all force you put in the PTO shaft will move slurry very effectively. Therefore our propellers are bigger than are used to see in slurry mixers. Our smallest (diameter 65 cm) propeller is the same or bigger than competitors' biggest propeller.

Good design hydrodynamic propeller all power requires coming acceleration mass (slurry). Counterforce is pushing forces that are trying to move the tractor forward. (Newton's third law) Each force has an equal opposite counterforce.




Propeller selection
We are making various sizes of the propeller. Blade numbers are typically three- or two-blade. If you have your own, require several blade or diameter. Please ask it. Against belief, the two-blade propeller loses only about 20% mixing ability than the three-blade propeller. Do you remember Mr. Newton? 20% weaker mixing capacity also means 20% less power required. Sometimes tractor could be a slightly weak front of a three-blade mixer. Or there is a small-cap or hole that the propeller has to fit in. A two-blade propeller is a right solution; in that case, otherwise, a three-blade is the right choice.



Pricelist:
If you are buying a mixer. Select the first length of the frame, look at the price. Then the diameter of the propeller and blade number and look at the price. Then count prices together. (For examble: Fast 7,9 m 4838,71 € + 79 cm three-blade propeller 483,87 € = 5323,58 €)

Frames:

| Lenght: | Price: | Weight: | Stress to the upper link: |
| --- | --- | --- | --- |
| Fast 6,4 m | 3951,61 € | 426 kg | 2597 kg |
| Fast 7,9 m | 4838,71 € | 540 kg | 3213 kg |
| Fast 9,6 m | 5483,87 € | 708 kg | 5068 kg |
Propellers:
| Diameter: | Price and power require 2 blades: | Price and power require 3 blades: | Thichnes of blade: |
| --- | --- | --- | --- |
| 65 cm | 362,90 € 50 hp | 403,23 € 60 hp | 10 mm |
| 72 cm | 362,90 € 70 hp | 403,23 € 80 hp | 10 mm |
| 79 cm | 443,55 € 80 hp | 483,87 € 90 hp | 12 mm |
| 87 cm | - | 564,52 € 120 hp | 12 mm |
| 98 cm | - | 725,81 € 180 hp | 15 mm |
Prices VAT 0%.


We are willing to deliver propeller to another brand as well.

Prices are near that price list. If the hub/boss has contained intricates structures like wedge groom. It influences prices upliftingly.