JUKKA-EC Slurry / Manure Mixer
Length: 8,1 m or 9,9 m
Strong structure, weighs 600 kg (8,1 m)
The propeller is the best ever made for a slurry mixer; 78 cm diameter, with 3 blades. Compare that to a ship propeller. One of these propellers is actually installed in a 70 tonne ferry and performs better than the original!
Power requirements are approximately 100 hp at 650 rpm, 200 hp at more than 1000 rpm (max. 320hp).
Galvanized for maximum life, estimated 35 to 45 years.
Prices:
8,1 m long: 6400 € (incl. VAT)
9,9 m long: 7300 € (incl. VAT)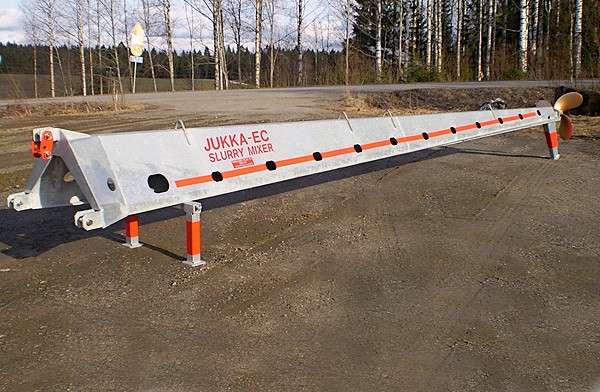 JUKKA-EC is very easy to use and maintain. The whole bottom part can be dismantled (about 30 12X35 bolts and nuts), which makes it possible to lift the shaft and propeller out of the mixer and easily replace the 5,5m long wooden support bearing. Even if the propeller is rusted stuck or the bearing too tight, one can simply detach them all for maintenance or replacement.



Why a wooden bearing?
Rubber or plastic works very well under slurry (fluid), but eventually the level of slurry descends, leaving a part of a rubber or plastic support dry, and those materials cannot tolerate friction, which forms heat. Plastic melts, and rubber loses its properties in temperatures above 180 degrees, and the damage is permanent. Wood, on the other hand, endures dry conditions and friction-induced heat much better. The wood is covered with vaseline before assembly. The whole 5,5m long wooden bearing costs only about 60 euros (in Finland), which is very cheap compared to plastic, rubber or bronze.

Estimated life time:
Typically the bottom meter of the bearing becomes too loose in about 3 to 5 years. The rest of wood lasts 5 to 8 years. The long, solid wooden support guarantees that the shaft never becomes too loose.

That is why we chose wood. We now have over 20 years of experience using wood for this purpose. With earlier models there was trouble replacing this part, but those problems are gone in our new JUKKA-EC model.